Proficiency testing
acc. to EN ISO/IEC 17043
General information Current News Proficiency testing schemes General rules for participation

Pricelist of proficiency testing

Appeal form

Second hand
NDT-testing line for fluorescent penetration inspection (FPI)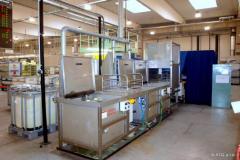 penetration bath
drip station
rinse bath
developer bath
drying cabin
UV-light inspection cabin with curtain
Accessories:
stainless steel basket for smaller work-pieces
water pistol with adjustable pressure
UV-lamp
closed circle water management system
The testing line is for immediate sale.
1 year in operation only, nearly unused, we offer a new warranty.
All technical details and price on request.

Contact person
Training courses
We offer training courses in English and Russian language.

Newsletter
Register here:





We are certified according to ISO 9001:2008