Proficiency testing
acc. to EN ISO/IEC 17043
General information Current News Proficiency testing schemes General rules for participation

Pricelist of proficiency testing

Appeal form

UT - Training and services
Testing process in UT
The ultrasonic testing has very wide range of applications. Due to wide range of UT applications there is very wide basis of relevant standards. The most important are for example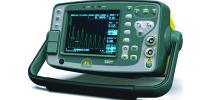 weld inspection: EN 1712, EN 1713, EN 1714, ...
forgings inspection - EN 10228-3, ...
automatic steel pipe inspection: EN 10246-7, ...
foundry sector: EN 12680-1, ...
thickness measurement: EN 14127, ...
Services of NDT Level III
qualification of the NDT personnel
preparing of the Written Procedures, methodical performance of the testing, acceptance criteria
laboratory testing / in site testing
outputs and inspection reporting
expertise guarantees, methodical and legislative activities
Consultancy
We offer to our clients consultancy services. Our specialists recommend you suitable methods, specify correct technique for your application (testing sensitivity), warn about possible limitations, optimize testing parameters, chose equipment and aids, prepare written instructions, safety instructions, design the workplace / laboratory, etc.
Types of testing
Ultrasonic method uses for detection bounce of ultrasonic waves from discontinuities or flaws. It makes ultrasonic useful for metal and non-metal material checking. Big advantage of this method is the possibility to check semi-product with big thickness (for forgings even a few meters)
weld inspection
inspection of steel flat products
forging inspection
pipe inspection
casting inspection
thickness measurement
Main application of UT
automatic ultrasonic inspection of semi-products (tubes, rods, welds)
corrosion checking via guided waves
support RBI (risk based inspection) - inspection pursuant to rated risks for higher maintaining expenses efficiency
Our equipment
ultrasonic devices (pulse echo technique, transmission technique)
standard set of UT probes
ultrasonic calibration blocks and referential gauges
ultrasonic hardness tester and thickness meters
ultrasonic manipulators and systems
Training courses
We offer training courses in English and Russian language.

Newsletter
Register here:





We are certified according to ISO 9001:2008