Proficiency testing
acc. to EN ISO/IEC 17043
General information Current News Proficiency testing schemes General rules for participation

Pricelist of proficiency testing

Appeal form

RT - Testing and services
We provide training services, measuring and inspections tailored to customer's requirements or according to international, national and industrial standards.
We offer our clients consultancy services. Our specialists recommend you suitable methods, specify correct technique for your application (testing sensitivity), warn about possible limitations, optimize testing parameters, chose the equipment and aids, prepare written instructions, safety instructions, design the workplace / laboratory, etc.
Testing process in RT
During the manufacturing, or in repair activities, RT is required directly by standards or by customer. Basic methodical standard is EN 444 and then EN ISO 17636-1, EN 12681, EN 10246-10, EN 462, EN ISO 11699-1, EN 25580, EN 12517-1, EN ISO 5817, EN ISO 6520, EN 1330, ...
Standards in specific industrial sectors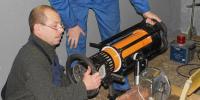 aerospace industry: ASTM E 1742, ...
petrochemical industry: API standards, ASME Code B 31.3, ...
foundry industry: ASME E 155, E 186, E 446, ...
pressure devices: ASME Code, EN 13445, EN 13480, ...
Services of NDT Level III
Qualification of the NDT personnel who is performing the NDT testing.
preparing of the Written Procedures, methodical performance of the testing, acceptance criteria
laboratory testing / in site testing
outputs and inspection reporting
Vocational guarantee, methodical and legislature activities
These activities are in all cases secured by personnel qualified in Level III according to ISO 9712, SNT-TC-1A and NAS 410.
Training courses
We offer training courses in English and Russian language.

Newsletter
Register here:





We are certified according to ISO 9001:2008